Case Study: Chebeague Island Oyster Company
How Gerard Daniel shook things up at an oyster farm in Maine
Ten miles east of Portland, ME and accessible only by ferry boat, Chebeague Island is the largest island in Casco Bay that is not connected to the mainland by bridge. With an eye toward small-scale economic development and environmental stewardship, Chebeague Island Oyster Company co-founders Bob Earnest and David Whiston started an oyster aquaculture project for their community association that has blossomed into an $800k business and inspired the creation of two other oyster farms on the island.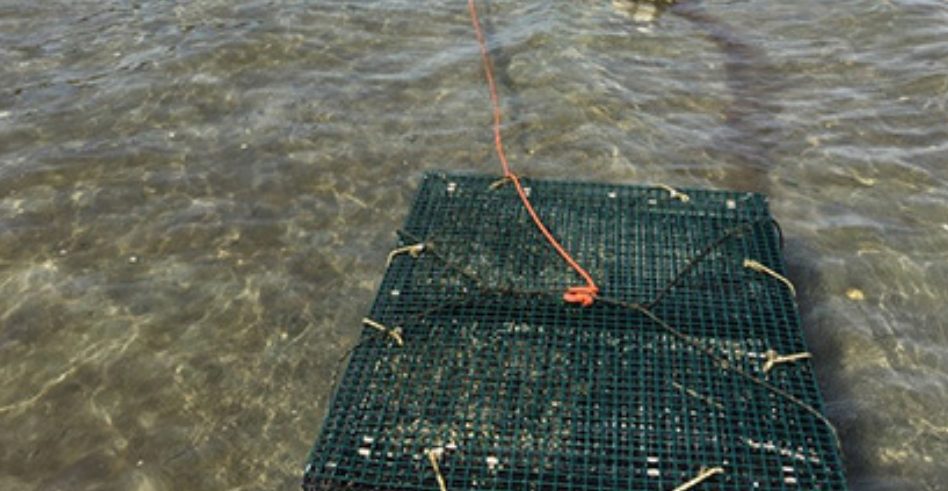 Oyster farming
Oyster farming begins with baby oysters, called spat or "seeds." These seed oysters are partitioned off from the open water in mesh enclosures attached to a dock or containers on the dock that have nutrient-rich water pumped through them. Tens of thousands of seed oysters will fit in a single bin. As they grow, they are continually sorted and divided into more and more bins until they graduate to open water cages that are placed out on the tide flats. Here, the oysters mature to market size.
Seed sizing
Three times each season, the bins of seeds must be classified by size so the ones that have doubled in size can move on to the next bin. This sorting is historically done by hand-sifting the oysters through a screen.
The typical gradation of screen sizes is 4, 9, 14, and 19 mm. Even though this procedure is only done 3 times per season, by the third year of shaking 800,000 tiny oysters by hand on homemade separation screens, the tedious, back-breaking process was taking a toll on Bob and his crew and only promised to get harder as the business grew.
Improvise or invest —Although Bob knew that a vibratory screen separator could perform the seed sizing task faster and more easily, it was hard for him to justify the capital investment on a brand new machine that would only run a handful of days in a season.
Since the Chebeague Island crew was accustomed to repurposing second-hand equipment or building their own, they set out to devise a mechanical oyster seed sorter of their own. After burning out a reciprocating saw that they had repurposed as a shaker motor, they went back to the drawing board.
While looking for screen mesh for their yet-to-be perfected contraption, Bob found Gerard Daniel and recognized that the pricey vibratory separators marketed (and marked-up) by aquaculture equipment suppliers were not unique to their industry. A vibratory separator ordered directly from the manufacturer might do the trick.
Bob consulted with Ron Hoke (Gerard Daniel Business Unit Manager, Separator Products) who set him up with a CompactTM machine from Gerard Daniel's Performance SeriesTM vibratory separators for about half the price of what the aquaculture supplier offered.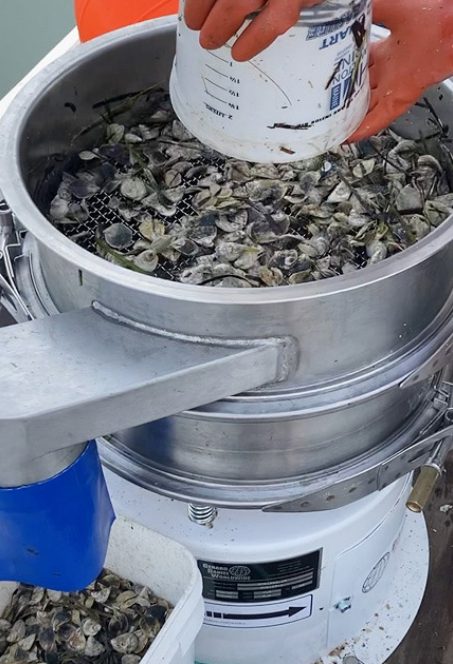 Since the Compact model is portable, Bob was able to further justify the cost by bringing in two neighboring oyster farmers, also tired of hand sorting, to chip in and share the machine. Going with Gerard Daniel saved everyone money to invest in other improvements and saved their backs from aching. Outfitted with the same screen sizes they were using to sift the seeds by hand, they cut the tedious, all-hands-on-deck job down to a relatively easy one of just a few hours. In addition to sorting the seeds by size, the vibrating serves a hygienic purpose for the oysters as well. Knocking a bit of the new growth shell off helps to keep them healthy and grow a stronger, deeper shell.
"A little tumbling and shaking keeps the oysters from attaching themselves to each other, promotes uniform, deeper shell growth, and knocks loose harmful biofoul such as algae or mussels growing on their shells, all of which makes for a perfect oyster for the half-shell market. The Gerard Daniel separator allowed us to accomplish size sorting and tumbling in a single operation, which saved us a lot of time."

Bob Earnest
Configuration
Designed to run on a standard 110-volt outlet and weighing just 200 lbs., the CompactTM machine was portable enough to be used out on the dock near the oyster nursery or easily lifted into a boat using the same small jib cranes the farmers use to lift the oyster cages.
Chebeague's CompactTM Separator Machine Specs
18-inch diameter, with 254 square inch screen areas
Single screen deck to sort into two sizes
4 screen sizes
110-volt single-phase inverter equipped for convenient dock use
1/4 horsepower motor
200 lbs. overall weight for easy lifting
Gerard Daniel's Expertise
With over 70 years of experience in wire mesh, our applications engineers collaborate with customers to improve performance and reduce costs in a wide range of separation applications in food & beverage, agricultural, and industrial processing. With multiple operations in the US, as well as Canada and Ireland, Gerard Daniel Worldwide is a leading provider of mesh, filtration, and separation solutions used in a broad array of critical OEM and MRO applications.
Increase productivity and lower production costs by consulting with the screen experts at Gerard Daniel.