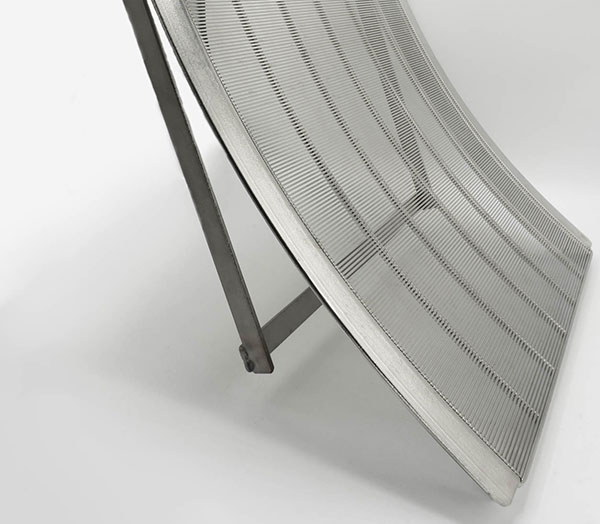 We bring the most value to wedge wire dewatering screen projects for customers seeking the personal attention, engineered solutions, and fabrication expertise not found with bulk wedge wire supply houses. We manufacture replacement screens from original equipment manufacturers for field applications such as wastewater treatment and large agricultural operations.
Description
Dewatering screens, often fabricated from wedge wire, are designed to separate large volumes of liquid and heavy products such as farm produce or food waste, or other large particulates floating in liquid. In addition to their function of dewatering the product, they also prevent large debris from entering the waste stream. They are used in passive screening, vibratory screening, or trommel screening applications. Formable either across or with the direction of the wire, they are suitable for flat panel, concave, convex, cylindrical, or basket configurations that can be mounted in stationary frames or moving machine parts.
Construction
The wedge-shaped cross-section of the dewatering screen wires means that the narrowest point in passing through the screen is directly at the face of the screen so that any solids that fit through that gap will not encounter any subsequently narrower points to get lodged in, preventing clogs, or blinding of the dewatering screen.
304 or 316 Stainless Steel
Wedge wire gap spacing, profile, and layout optimized to customer's application
Post-weld-up forming specific to use
Affixed to custom stainless framing and bracketry
Rugged enough for decades of uninterrupted service separating large, heavy, or irregular shapes that would damage mesh material
Applications
Wedge wire's utility is in the many ways it can be configured depending on the application. Gerard Daniel has the engineering know-how in-house to extend the utility of wedge wire beyond its off-the-shelf format. Dewatering screens can be self-clearing when mounted on a steep angle making them ideal for passive, clog-free dewatering in unattended applications such as stormwater inlet filtration, waterfall screens, hydro-sieves, or Coanda screens. Wedge wire is less abrasive than mesh or perforated sheets, making it ideal for conveying or straining delicate products like grapes and lettuce.
Industries: Wastewater treatment, Water intake, Processing root vegetables, juicing, washing delicate produce