PerforMAX™ Vibratory Separator Machine
At 48 or 60 inches in diameter, our PerforMAX™ series vibratory separator machines are the workhorse of the line. This machine can sieve, sort, sift, separate, or classify all day, every day. The PerforMAX series also comes with a screen tensioner.
Specifications
Nominal Specs
PerforMAX™ 48
PerforMAX™ 60
Screen Diameter
48 in
(1219 mm)
60 in
(1524 mm)
Screen Area
1800 in2
(11,600 cm2)
2800 in2
(18,000 cm2)
Motor Power
2.5 hp
2.5 hp
Electrical Connection
3φ*
3φ*
Frame Ring Height
8 in
(203 mm)
8 in
(203 mm)
Shipping Weight
(For a Single Deck model)
1150 lbs
(520 kg)
1400 lbs
(635 kg)
*All motors will have voltage and amperage suitable for the country of use.
Standard Features
Adjustable shaker counterweights to fine tune vertical and horizontal vibration
304 Stainless Steel deck, rings, screens
Powder coated mild steel base and motor table
The 48 in machine has 8 in tall 304 Stainless Steel table and spacing frames with 8 in diameter tangential discharge spout
The 60 in sieve machine has 10 in tall 304 Stainless Steel table frame and 8 in spacing frames with 8 in diameter tangential discharge spout
One screen in mesh count to meet your sizing / sorting requirements per screen deck ordered
Screen tensioner
Options
304 Stainless Steel motor table or base
304 Stainless Steel cover
Configurable with up to 4 screen decks
Seamless Welding
XXXXXXXXXXXXXXXXXXXXXXXXXXXXXXXXXXXXXXXXXXXXXXXXXXXXXXXXXXXXXXXXXXXXXXXXXXXXXXXX
Parts and Accessories
Rubber Coated Nylon (RCN) connector sleeve
Support Springs
Center-Tie-Down Assembly
Clamp Rings – Available in Bolt or quick release
2.5 hp purpose-built heavy duty Shaker Motor
Fully assembled self-cleaning screens
Screen Gaskets
Screen Cleaning Solutions
Ball cleaning kits
Slider cleaning kits
Shaker Screener Dimensions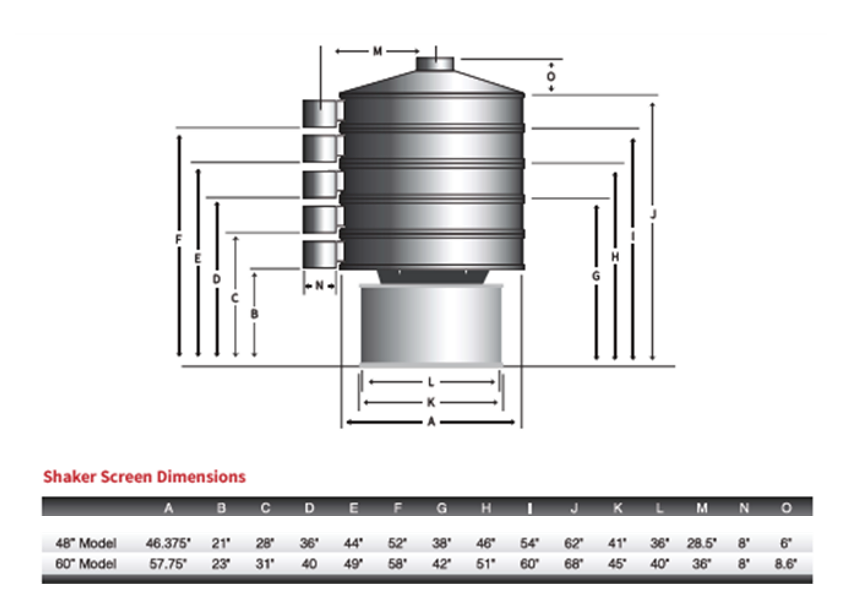 Our machines are CE and FDA certified and are compliant to the specifications of the following bodies – CFIA, USDA, 3A Dairy, ASTM, HPRA.